Theme: Proximo Clean
By hilaryquinn
Theme categorization:
Blog
Textpattern version compatibility:
4.7+
Description
A clean blog-type theme design for Textpattern CMS, including a dedicated gallery section. Fully responsive from mobile to desktop.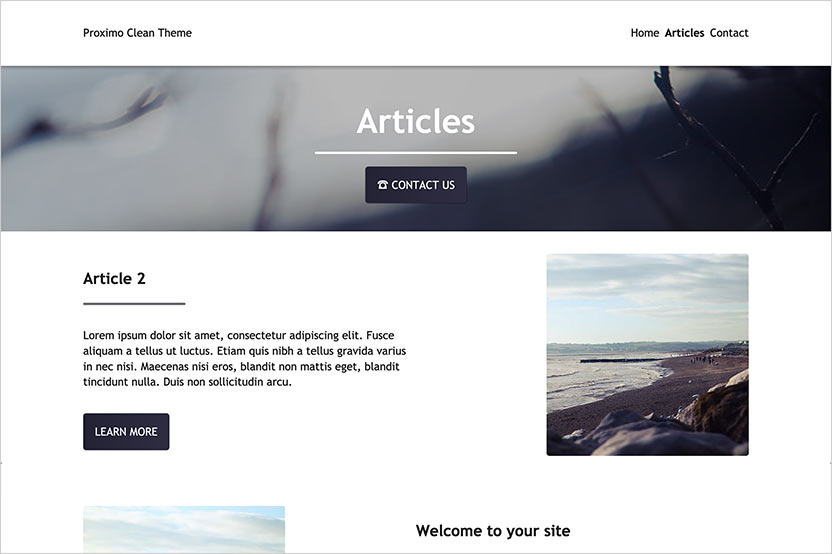 Show more screenshots of this theme…
Download Proximo Clean
Latest version: 1.0.0 | Release date:
Installation instructions
To install a new theme, or to upgrade an existing theme, please follow the instructions below:
Download the .zip file using the download button above, and then unzip the contents.
Upload the entire unzipped folder into the themes directory of your Textpattern website. Note that the default name for the destination directory is themes, located in the site's root directory, but you can manually rename that in your Textpattern preferences—please ensure your theme is uploaded to the correct destination!
Log in to your Textpattern admin panel, then navigate to the 'Themes' panel.
If you are installing a new theme, import the theme via the user interface.
If you are upgrading an existing theme, select the current theme from the themes list, then use the menu located below the list to select 'Update from disk' and then 'Go'. The new theme will upgrade the current theme.
Using the 'Sections' panel, assign the theme to one or more sections of your website.
More detailed installation and usage instructions are available within our theme documentation, specifically the 'Importing themes' section.
If you notice any kind of problem with this page's construction or content (theme doesn't work as stated, outdated information, typos, broken links, or whatever), open an issue and we'll investigate.